Custom Cabinet Planner app (Notion Template)
$299.95
This Notion Template could potentially revolutionize your companies sales and manufacturing performance, and at what the template will cost you, what do you have to lose?
ATTENTION: It will help if you do the following before you purchase the app:
1. Your first step is to create a new FREE Notion Account (at some point you may need to upgrade to a paid plan if you have a large team, or you add enough data to surpass the Free limits, which are pretty huge). If you already have a Notion account, skip to step 5. If not, go to the Notion Website and enter the email address you want to use in the "Enter your email…" box outlined in red in the image below and click the Sign up button.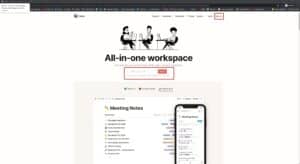 2. You will then get this screen, or something similar with your email address filled in. Click on the 'Continue with email' button. You may or may not get a popup for a signup code, but if you do, check your email and enter the supplied code.

3. You will be asked to enter your information for your account next, then you will be taken to this screen where you choose between 'For myself' or 'With my team'. For the vast majority of users, you will choose For myself, and the Guest feature works fine to invite your team and customers into the app. In a very few cases, where you have a large team, and/or want more security features, you may want to upgrade to a paid account, but I can't think of any reason anyone needs to start with a paid account. So click the radio button in the For myself block, and click Continue.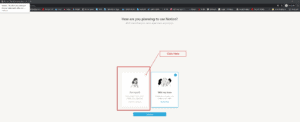 4. That will activate the For myself block, and change the button to Take me to Notion, which you will want to click.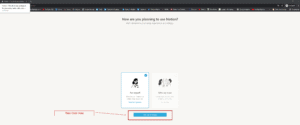 5
. Now you are ready to Purchase the app (scroll to the bottom of this page and click on the Add to Cart button), which will give you access to the link to download the template, then you will be ready to Duplicate the Custom Cabinet Planner Notion Template.
Clicking that link will bring you to this Read only view of MY copy of the Template, so you will want to click on the Duplicate link in the top right corner of the page (this process will take quite a while to do, so be patient). This will copy the template into your Notion Workspace.

6
. Once that process is complete, you will see your new Notion Workspace with the World Domination Custom Cabinetry page inside your Workspace. This is now your copy of my template, I can't see your template, and you are not working in my template.

7. That's it for the Duplication process. You are ready to start working with your new WDCC template, which JOB #1 is, to change the template name.

Last but not least, if you have not already taken the Custom Cabinet Planner Course, you REALLY should do that NOW!!!
Description
Custom Cabinet Planner is a great companion to Custom Cabinet Estimator.
This Template is intended to be used for multiple purposes, first and foremost being your Single Source of Truth (the first and last place you look for anything Project related), and some others being:
Repository for:
Projects
Job Site Address (Map to jobsite)
Appliance Specifications
Accessories
Project Galleries (project images that can be shared with clients)
Companies (Organizations you work for or want to work for)
Contacts (People you work for or want to work for)
Rooms (Selections)
Ballpark Estimates
Estimates
Proposals
Rates (for Ballpark Estimates)
Procedures (Step-by-Step instruction sets)
Things you can do:
Run quick Ballpark Estimates to PRE-QUALIFY potential clients (from a PC, Tablet or SmartPhone)
Track your Lead Sources
Track your Sales Pipeline
Track your "Next Step(s)"
Track your Projects by Category (remodel verses new construction, commercial verses residential)
Manage your Production/Job Status
Manage Punch List
Manage Call Backs
Tracking/Planning Throughput
Tracking/Planning TVC (Totally Variable Costs)
Tracking/Planning Operating Expenses
Effectively managing your business rather than your business managing you
Help you make more money now and in the future
GET ORGANIZED
Byproduct of Using Custom Cabinet Planner:
Production Calendar (this is the flagship feature, and shows job name, cabinet quantity and job cost in a Calendar view)
Rates (your minimum, average and high job costs to be used for Ballpark Estimates and how they are trending)
Accepted/Rejected ratio (how many Ballpark Estimates are excepted verses rejected and how that ratio is trending)
Win/Loss Ratio (how many proposals turn into jobs and how that ratio is trending)
Production Status can reveal your Constraint (visual indicator of where your Constraints and/or Bottlenecks are)
Answer the question, there is money in my bank account, how much of that is MINE?
After you purchase the template, I invite you into my Custom Cabinet Planner app (Notion Template), which will take you to the Notion website, then you will create an account (if you do not already have one), accept my invitation to the Notion Template, Duplicate the Template (top right corner of screen), and then you will have your own copy to modify and utilize in any way you want.
Notion is pretty easy to use, and for the most part it is self-evident how to use this template, to help I have created a Course to get you up to speed on the basics, but if you have never used a cloud based database, you would be wise to purchase some one-on-one consulting time with me so I can walk you through the basics at the very least (an hour or two will get that accomplished for most computer literate users, more time would be required for less computer literate beginners). For those that want to master this app, you can purchase as much consulting time as you need, I have enabled you to schedule the time here on my website.
If you find the App useful, and find that you would like to add other features and/or capabilities, but don't feel qualified or don't want to learn what's needed to do that, I am available for customizing your app as well.